Three things you should know about VoIP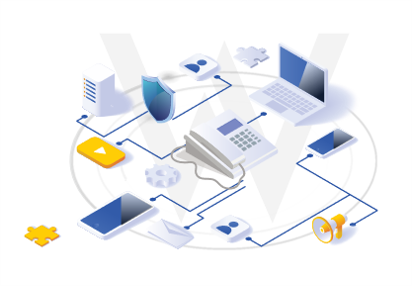 Just in time for a safe return to work
As many businesses ready themselves to return to the workplace, one thing is for certain: there will be more contactless meetings, and a much higher demand for self-service tools that keep the team working safely and productively – together but apart.
One of the great things to take shape over the last year is the true benefit of Voice over IP (VoIP) and the role it can play in optimising the remote and hybrid workplace.   Team communications that are VoIP-based are so much easier, more effective and help boost productivity.
While VoIP is by no means a new technology, the new demands and role of it in unified cloud communications and the workplace has brought it back into the spotlight.  The truth is that it's one of the easiest and most reliable ways for businesses to communicate.
There are a few things you should know before stepping into this virtual world of voice, though.
Thing #1: People will tell you that VoIP isn't secure.
IP telephony is no less secure than a traditional Public Switched Telephone Network (PSTN). With encryption and security software, however, VoIP can be less risky and more secure than traditional landlines.  Typical VoIP security issues are like network security issues, and can result from either internal or external loopholes, as is the nature of passing data over the Internet.  If your VoIP traffic is unencrypted, it is possible to tap in and capture voice packets (similar to data theft).  But then that would be like leaving the door to the office unlocked, right?  Make sure your provider offers encryption for VoIP, such as TLS or a virtual private network (VPN), to minimise exposure of sensitive data or tampering with important calls.
Thing #2: People will tell you VoIP is only for techies
Now more than ever, VoIP is catching on across industries. It's no longer the kingdom of the IT company or deeply tech-savvy crew.  VoIP is all around us from hair salons to law firms, mining houses to financial services providers.  In fact, one of the quickest growing vertical sectors in VoIP is the healthcare industry, especially with the demand for telemedicine and contactless consultations.  Even more attractive is the compliance provided by many VoIP providers, helping their clients maintain client confidentiality when it comes to transmitting medical information over the network.
 Thing #3: People will tell you VoIP gives poor call quality
This is simply not true. The reality is that with a quality Internet connection and decent bandwidth, VoIP calls sound better than traditional landlines.  VoIP phones have often been tarred with a low quality of audio brush.  However, wideband audio codecs and noise cancelling handsets are optimised for VoIP and bring out crystal audio quality. Unfortunately, the same can't always be said for the Internet connection.  The truth is you do need a good Internet connection if you are going to choose to send your voice calls over the Internet.  To make and receive VoIP calls, you need at least 100 Kbps upload and download bandwidth per line. A single DSL or cable connection will be sufficient. Most business broadband packages start at 25 Mbps, which is 25,000 Kbps.
So now you know. Think about it this way: your Internet costs are already accounted for. With a powerful and comprehensive set of features, VoIP solutions offer massive savings at minimal hassle. With many working from home, or anywhere, using VoIP makes more sense.
In an environment where the future is unpredictable and costs are under scrutiny, shifting to a highly flexible, feature-rich and low maintenance solution will free up valuable resources for any business.
For more information on the Wanatel wholesale VoIP offerings, please visit our reseller page.