WANATEL WEB INTERFACE
The Wanatel Cloud PBX (or hosted PBX) is a complete business phone service using VoIP (Voice over Internet Protocol). Not only will you save up to 40% on you telephone bill with Wanatel's Cloud PBX, but you also improve your business productivity.
From our Web Interface,
you control and manage your
VoIP hosted PBX functionalities
from any internet device.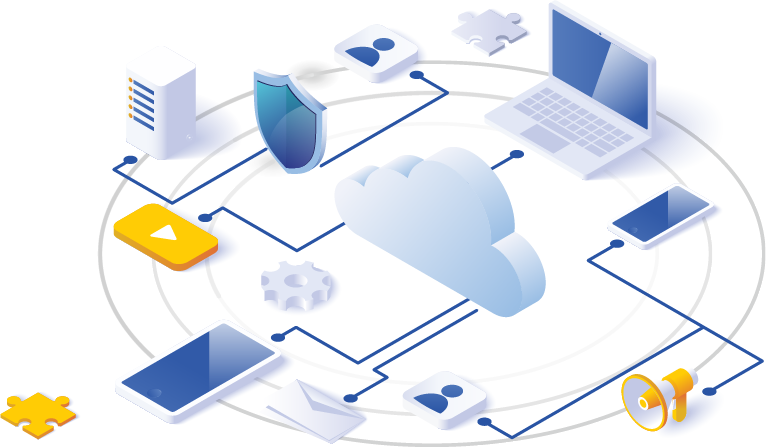 02. Improve
your business
04. Subscribe to
the Cloud
Control your VoIP phone system with a Cloud PBX (Hosted PBX)
Web Interface management of a Hosted PBX is far more user-friendly than is the case with traditional solutions. Intuitive web interfaces mean that anyone can manage, monitor and make changes to the service at any time, from anywhere without needing any specialized skills or experience. Wanatel Web Interface lets phone system managers and users set preferences and route calls in the way that works best for them. Detailed telephony data is available for individual users or the entire organization.
Wanatel Cloud PBX Interface :
Manage and record voice prompts or adverts
Create and customize IVRs
Set and change working hours
Add new devices in minutes
Control hunt groups and call queues
View incoming and outgoing detailed call records
Download and analyse call records
See at a glance which users are online and using the phone (Operator Panel)
Manage user access levels
Call Forwarding and Call restricting
Extension manager
Easily configure your Hosted PBX options
The Wanatel network resides in a secure, off-site data center, but users still have full control to personalize their own phones, call routing, messaging and more, just as they would if a Wanatel office PBX was in the office while everything is in the Cloud PBX.
Using the administration application via their PCs, tablets or laptops, users can securely access the phone system over the Web to:
Easily personalise phone functions such as availability and call forwarding settings;
Retrieve voice mail or call recordings;
Easily change your ring tone or music hold on;
Configure your IVR dynamically and set the options caller can enter. It has never been so easy;
Easily create rings group with groups of extensions.
More advanced users:
Choose your extension, place an announcement before leaving the calling ring group, play different music on hold or adverts to callers, set the various ring destinations;
Keep an eye on call loads, wait times and agent responses, and add or remove extensions at any time to keep things flowing smoothly;
View the status and activity of every extension on the entire system in an instant. A quick glance at the extension monitor and you'll know exactly who's online, offline, on hold, or away.
Where are our Cloud PBX Servers located?
Wanatel is a reputable Cloud PBX provider that has resources to keep your data secure so that you don't have to worry about powering, maintaining or updating the Cloud PBX server. All businesses may find that a hosted provider does a better job of keeping data secure.
We pride ourselves on the stability of our fully redundant and resilient network, which we operate at the highest of standards across our multiple POP's (Points of Presence) at Teraco Cape Town and Johannesburg. Our network, along with the reach of our international partners, enables us to offer Quality of Service (QoS) guarantees to most locations around the world. VoIP has never been as efficient and easy as it is with Wanatel Hosted PBX.