WANATEL AUTODIALER
Wanatel Autodialer is a call centre software that dramatically increase the efficiency of your agent team by eliminating the dead time between calls.
Wanatel Autodialer manages outbound agent-control and predictive dialing,
which increases the efficiency of agents because a campaign can be
set to auto-dial and send live calls to available agents.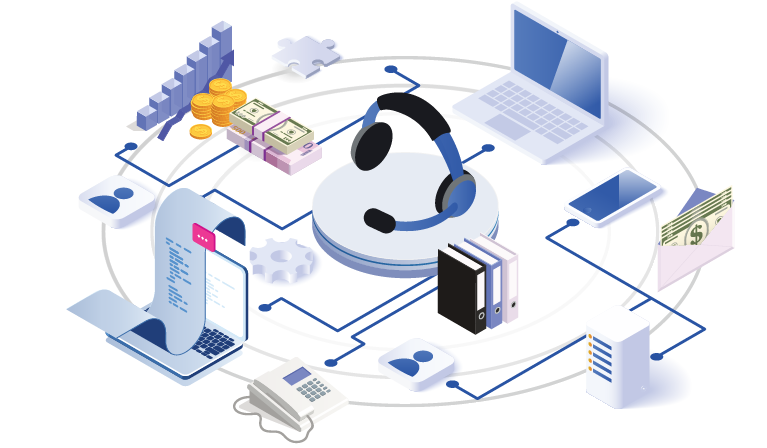 01. Solution for
Call Centre
WANATEL CALL
CENTRE SUITE
02. Monitor
agents activity
Wanatel Auto Dialer can work on pre-defined call lists or can dynamically create them over an API (e.g. dial number X after 10:30 AM). It shares the load many PBX servers and has a flexible rescheduling logic to handle missed calls. It's built to be used with your existing Asterisk PBX and does not require separate servers.
Increase call centre agent productivity by as much as 70%
Call Centre agents usually spend more than 80% of their time dialing numbers and there is only a 35% chance that the agent will connect with a live prospect. This means that agents spend more time dialing rather thananswering questions, selling products and ultimately achieving targets. With Wanatel Autodialer you dramatically reduce your agent's dialing time because the software does it for them.
Wanatel Autodialer benefits :
Save as much as 70% of an agent's work time increasing productivity and driving sales by dialing numbers automatically
Operating costs are lower as the software can automatically ensure higher sales and productivity from agents
It will automatically create Do-Not-Call lists, rejected call lists and lists of telephone numbers that were not answered
Call recording
Run multiple prioritized campaigns in parallel
High scalability: from one to hundreds of outbound lines on multiple servers
Provides a set of "building blocks" so you can create custom-tailored solutions
Programmable handling of calls that do not complete
Works with your existing Asterisk PBX
Easy, automated installation
Easy to integrate through its HTTP API
Strong real-time monitoring capabilities
With a combination of different Wanatel services, setting up and equipping your call centre can be quick and painless. Choose a solution from our range of products and services, which can consist of a computer based soft-phone solution with CRM package, SIP trunking with IP servers or gateways….