Four reasons to switch to Cloud PBX today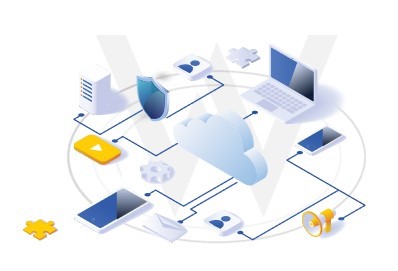 Expedited by hybrid workplaces, spurred on by Covid-19 and lockdown restrictions, companies like banks that traditionally operated in-house servers and data storage facilities, have increasingly switched to cloud services like Amazon Web Services and Microsoft Azure. By the end of this year, 56% of South African businesses estimate that more than a quarter of their applications will have moved to the cloud.
More companies, particularly in the manufacturing, financial services, and healthcare sectors, are moving their data and processes offsite and into third-party data centres. Cloud computing offers compelling cost advantages, amongst other benefits. Additionally, as broadband penetration increases, download speeds are also rising at a rapid rate, and this is boosting data consumption.
One service that provides a great way for companies to save money and space, is a Cloud Private Branch Exchange (PBX).  Traditional servers for PBXs are expensive and require expert maintenance but a Cloud PBX uses IP-based telephony to provision and access services, so it is essentially a telephone system that is built, delivered and managed over the Internet.
With a powerful and comprehensive set of features, Cloud PBX offers the ideal solution for businesses facing a distributed workforce or remote worker environment. With many working from home, or anywhere, it makes it easier for workers to collaborate through voice, Web conferencing and instant messaging at a radically reduced cost and set monthly expense.
Ideally suited for growing and changing environments, this is a true Unified Communications as a Service solution. In an environment where the future is unpredictable and costs are under scrutiny, shifting to a highly flexible, feature-rich and low maintenance solution will free up valuable resources for any business.
Here are the four top reasons to shift your telephone to a cloud environment:
#1: Scalability
In today's uncertain times, being scalable (both up and down) is important so that your phone system can grow with your business needs and pressures.
#2: Lower cost
Cloud PBX does not require expensive investments for inhouse installations nor for regular maintenance.  There is not always a requirement to purchase physical devices, and costs are governed by a predictable, monthly service fee.
#3: Flexibility
Your business will benefit from the latest features and functionality without having to consider costly hardware updates.  Cloud PBX systems are devised for simple administration and easy integration where user features and functionality can be added at the tick of a box, rather than lengthy technical support tickets.
#4: Extended presence
You can create and manage virtual offices, virtual departments, and branches with all the functionality of a physical setup, providing a central ability to create local, national, or even global presence.
Speak to your reseller to find out more about making the shift to a more flexible telephony solution. Our Cloud PBX (often called hosted PBX) brings you all the enterprise advantages of a fully-fledged PBX without the fixed costs headaches.
With Wanatel, our resellers are able to entrust the management of equipment, hosting of the service and handling upgrades to the experts while they take care of their customers' growing demands.  Our Cloud PBX solution not only saves calls over the Internet, it also saves on risky infrastructure investments and costly cloud migrations.
For more information, visit https://www.wanatel.co.za/what-is-a-cloud-pbx/