Emerging VOIP trends for 2023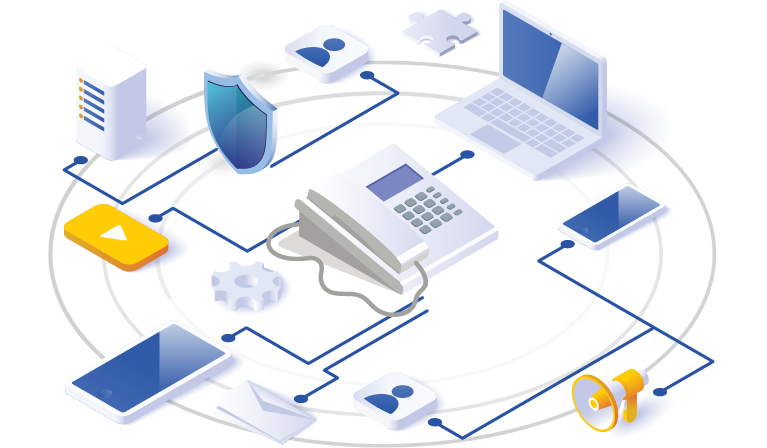 Cloud telephony enhances collaboration trends
As South Africa's internet capacity increases, and quality of service improves, the year ahead looks promising for businesses with high-speed and reliable Internet connections – albeit darkened somewhat by the shadow of current loadshedding and economic challenges. Cloud-savvy businesses are demanding guaranteed uptime and continuous access to critical data, applications, and workloads.
The IDC State of Cybersecurity in South Africa report showed that nearly half (48%) of SA businesses are using cloud as a platform and driver of digital innovation. South Africa's public cloud services market alone is expected to expand at a compound annual growth rate (CAGR) of 24.5% through 2025, up from R27.2 billion in 2021.
Cloud telephony systems are complementing this aggressive growth trend – empowering teams to connect externally to their company's network via the Internet, and are bringing more and more innovation to the market in terms of flexibility in working from anywhere, whilst providing powerful features that businesses require.
Cloud telephony is essential in the cloud stack
Let's face it – traditional landlines have reached retirement age. Advanced internet capacity, and on-the-go access, have all but made landlines extinct.  In 2022, the IDC surveyed 106 South African chief information and technology officers, of which 70% said public cloud applications are essential for their organisation's technological transformation. Cloud telephony, communications and collaboration platforms are offering an enhanced experience for both businesses and customers.
In 2023, and the years ahead, businesses will invest increasingly in VoIP (voice over internet protocol) systems to help connect them with their customers, and suppliers, not only via phone calls but also by chat, video meetings, conference calls, SMS, and other channels. Companies of all sizes can easily measure the benefits of VoIP systems, and are likely to find sizable savings. For small businesses, it is a cost-efficient way to handle communications. Enterprises can leverage VoIP systems to manage business calls and integrate them with their existing CRM programmes.
Here are some more emerging trends we see coming to the fore in 2023.
Total collaboration integration
Cloud technology and VoIP systems enable seamless collaboration of teams, regardless of their location. Collaboration software is making workflows more cohesive, and boosting productivity and motivation at the same time.  Seamless customer experiences with intelligent bots and personalised access will be important for customer retention. The smart meeting room is on the rise, and it will unite employees working on-premises with those who connect from home or a coffee shop in another province or country.
APIs that make sense
Innovations in VoIP include alliances that complement existing apps or cloud solutions. Integrating VoIP into WhatsApp Business is a great example. There are no hardcoded, classic VoIP features in WhatsApp Business like call queues, call recording or even auto-attendants. WhatsApp complements existing structures to help businesses provide the best communications experience possible.
While VoIP still focuses heavily on the calling experience, with other methods of communication surrounding it, WhatsApp has always focused on messaging—likely the main reason the app's popularity exploded in the first place.
Speed of 5G
Although fourth-generation wireless (4G) is enough for consumer voice services, it's not reliable enough for enterprises. 5G employs bandwidth in a distinct way where the quantity of bandwidth is not restricted, so when a channel of traffic is heavily used, the 5G hardware switches users to another area to ensure that they always have constant and high-quality video and audio communications. With 5G, internet speed and bandwidth improves and businesses have more alternatives to support higher-quality videos, including 4K and 8K resolution, through open and stable streaming as well as sufficient transfer speeds.
IoT entry
VoIP most commonly uses Session Initiation Protocol (SIP) as its underlying protocol, and SIP has many other functionalities beyond the packetization of voice. Using SIP's presence capabilities, you can enhance a VoIP presence system to include information that comes from sensors, making presence information even richer and more granular. With the Internet of Things (IoT) this literally opens news doors. Because the IoT and VoIP are both based on the same communications infrastructure – namely, IP – they can easily be made to interact. For instance, a sensor on a factory floor can make a VoIP telephone call based on predefined criteria that can automatically trigger specific workflows, such as the reordering of components, either because they're running low or because of defects on a recent batch of products.
Multi-layered VoIP security
With the global cost of cybercrime expected to surge to R405 trillion by 2027 from R143 trillion in 2022, cyber threats remain a persistent challenge for businesses across the world. With VoIP, things are no different. VoIP phone systems are vulnerable to cyber threats, affecting more than a brand's reputation, but its growth and sustainability too. Businesses will be looking for vendors who offer VoIP software with robust cybersecurity layers.
The future of communication is changing, with VoIP becoming more popular for business communications in recent years and soon expected to become a set standard. But like any modern technology, these systems are still evolving. To be able to reveal its full potential, they will need support from others technologies such as AI, 5G networks, WebRTC, or UCaaS. Companies are trying to stay ahead of the curve by implementing solutions in the field of mobility, intelligent assistants, and video conferencing.
Take the time to analyse your business needs and see if your current communications solution makes the grade for 2023. Adding a cloud telephony platform as part of your communications strategy will help you stay agile and competitive while empowering your team with enhanced working tools.
Contact us today to either start on your VoIP adoption journey or to enhance your current technologies further expanding your business communication, reaching more customers and keeping connected.