CLOUDPBX FEATURES
The Wanatel Cloud PBX (Hosted PBX) is a complete business phone service utilizing VoIP – Voice over Internet Protocol. While you're saving up to 40% on your telephone bill with Wanatel VoIP Cloud PBX, you will also be improving your business productivity.
We provide a full-featured
Unified Communications (UC) solution
to communicate effectively with your customers.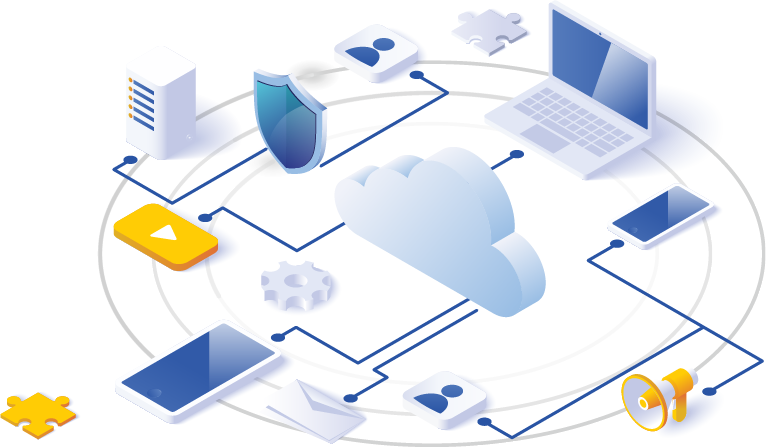 02. Improve
your business
04. Subscribe to
the Cloud
What you get with Wanatel Cloud PBX?
Our Cloud PBX includes all of the features you would expect from an enterprise class phone system, including: auto attendant, voicemail, call forwarding, call recording and desktop call management.
Users have the ability to add functionality for contact center, voicemail to email and time of day call directing. Finally, each customer gets the industry's most sophisticated business intelligence package to help them identify key performance indicators to run their business and increase productivity and efficiency.
While the new Cloud PBX comes with all PBX features we deem to be standard, our inclusion of Handset Auto provisioning; a Billing Module and a Call Quality Analysis tool has made a good product great. The fact that it is still a white labelled solution makes this product available to any customer or VoIP provider who wants a business grade telecommunications solution.
Key Features included in Wanatel Cloud PBX
Multi-tenant PBX+
The Wanatel Hive PBX is completely multi-tenant, so each tenant configuration is completely independent from the others.
Through a browser-based interface and because of its Multi-Tenant design easy administration of multiple tenants is made possible.
Handset Auto Provisioning +
This is the action of configuring a phone automatically, by providing only basic information's. New phones brand and model can be added using the Admin/Provisioning menu
Billing Module +
Quick and easy access to view and download CDR's (Call Data Records)
Call Quality Analysis +
Info like the progress time, who hung up, the codec used in the call, the IP of the caller and the called are easily shown few seconds after the call has ended.
A basic MOS calculator is included. The packet jitter and the latency can be easily shown in the graphs.
A basic decoding of the call SIP message is available and it is possible to check a detailed PCAP dump.
White Labelled +
The Hosted PBX Hive service can be provided with your own brnading. The tenant administration and user administration interfaces can be customized to provide your company's unique branding. A simple interface template is available to start your customized services quickly and easily.
Standard Features included in Wanatel Cloud PBX
Calling features +
Caller ID/On Call Waiting: Know who's calling before you answer
Call Forwarding: Redirect calls to your mobile or other phone so you don't miss any calls
Follow Me: Have one of your numbers/extensions ring for a period of time and if unanswered forward to a second number and then third and so forth OR all ring the mall concurrently
Caller ID Based Forwarding: Follow Me Based on number called
Inbound Number Tagging: Tag an inbound caller ID for easy reception management for multiple companies
Call Hold: Easily put a call on hold while you answer another call
Call Transfer: Attended Transfer (alert forwarding party before transfer) & Blind Transfer (transfer the call directly)
Call Conferencing: Join a conference room by dialing a feature code or get transferred in
Call Waiting: Be notified when someone else is trying to call if you are already on a call
Do Not Disturb: Callers go directly to voicemail or call fwd when you don't want to be disturbed
Call Logs: Access detailed call records by extension or account
Call center features +
Queue Handling
Periodic announcements
Round robin, extension with least calls, ring all
and more
Voicemail features +
Password Protected Voicemail: Prevent unauthorized access to voicemail
Voicemail Greeting Options: Unavailable / Personal Message
Voicemail to Email: Receive voice messages as a wav file (or _audiofile_) attached toan email
Digital receptionist (IVR) +
Multi level IVR menu management
Manage multiple IVR menus for different Inbound DIDs
Day and Night Mode Schedule: Create different greetings according to time of day and day of week
Custom Greetings: Upload third-party professional greetings to use as Digital Receptionist greetings
Hunt lists / ring groups +
Ring groups: Simultaneously ring a set of phones based on a DID
Hunt lists: Set a linear line of ring groups (1 extension or many) for a period of time, before transferring to a second and third ring group etc.
Call restrictions +
Block outgoing calls to specified numbers
Media management +
Custom Music-on-Hold
Custom Digital Receptionist Recordings
Custom voicemail messages
Call Recording +
Optional
Blanketor adhoc call recording
Secure call recording storage
Archiving call recordings
Report management +
Optional
Real time inbound and outbound call details records
Outbound call source listed by extension
Outbound call source lists for virtual extensions
Extension Manager +
Access, search and download call recordings
Personal profile editing
Detailed call analytics
UC features in one telephony solution
Wanatel Cloud PBX offers a single powerful set of UC features at a really affordable price. No need to spend time trying to figure out some "a la carte" menu of features and pricing. Simply pay one low price and get full control.
Wanatel Cloud PBX includes features that not only save you money from your monthly bill, but they also help to increase productivity by saving time, streamlining workflow, capturing essential voice data, and making your operation more efficient. Business VoIP features like the Virtual Receptionists, Voicemail to Email and the ability to work from anywhere increase your employee's efficiency. Workers can easily collaborate through voice, Web conference, and instant messaging. So you will save more than just a significant portion of your monthly bill – you are saving valuable time and resources that can lead to increased sales.
Wanatel Cloud PBX is scalable to your business
Is your business growing, changing and evolving? For most businesses, it has become nearly impossible to make accurate predictions. That is why you need a highly-flexible solution. Wanatel's VoIP Cloud PBX is a sure way to give you the peace of mind that comes from not being constrained by a phone system that only supports a fixed number of employees and can be costly and complicated to expand.
It's easy to open a new location or add seats to meet short-term or unexpected requirements. New applications are efficiently deployed and managed in the cloud rather than on individual devices. With this flexibility, your business can respond rapidly to new opportunities and changing market conditions. And if resources become squeezed, you can quickly scale back.
Relocate your phone system anywhere easily
Do need to relocate your offices? Or need to provide remote communications to a satellite office? Don't change your entire telephony system just connect your devices with you. Your telephony system is still in the cloud and follows you everywhere. You can also easily deploy remote workers: VoIP phone systems allow you to pass an office call to your home phone, or to install a softphone on your laptop and work from anywhere. In addition, presence features will let you see which of your colleagues are available at any given time.
Better presence and visibility
Wanatel Hosted PBX system allows you to get local phone numbers in cities and countries anywhere in the wolrd. This allows your business to develop your virtual presence by opening a virtual office anywhere. If you want to keep your original numbers, you can simply port it to Wanatel as well.
Work with one VoIP Partner instead of multiple vendors
Most traditional PBX deployments involve multiple relationships with multiple vendors that all must be managed by someone in your organization. If something does go wrong with your PBX, it can be difficult to determine which of the vendors is responsible for resolving an issue.
When you choose a Hosted PBX, managed VoIP solution, you only work with one VoIP provider who suppliesand looks after the entire solution.This is beneficial because your internal resources are freed up tofocus on more strategic operations, you have one vendor to call for help.